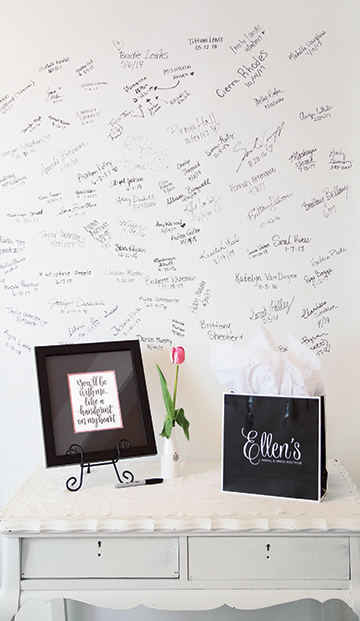 It can be very overwhelming planning such a momentous event as your wedding. Many brides find that as the Big Day approaches, they need more help than they anticipated. It's common for me to hear "I wish I had called you sooner." Having a knowledgeable wedding assistant to help you in the last hours, days or weeks before your wedding frees you up to savor this special time of your life, stress-free.
I've spent years making many local connections in the wedding industry. The signatures on our wall of brides are a testament to how many weddings we've been honored to participate in. As your personal wedding assistant, I will put just as much love into your wedding - whatever your budget. Our two most popular Day of Wedding Assistant package include:
Wedding Service Package
Would you like to enjoy a stress-free wedding weekend? If so, the Event Service Package is for you. Ellen's will be with you from rehearsal through your send off to insure an enjoyable, once in a lifetime event. The Event Service Package also includes the Dress Service Package listed below.
Package starts at $1,500.
2 planning meetings
Unlimited correspondence for 30 days prior to wedding
Create schedule for rehearsal, ceremony & reception
Coordinate schedule with wedding party
Coordinate vendor schedules
Manage checklist of items needed for Wedding Day (guest book, toasting glasses, cake cutter, etc.)
Coordinate rehearsal
Attend to the needs of entire wedding party for wedding weekend
Assist wedding party with dressing for ceremony
Distribute wedding party flowers
Distribute final payment to vendors day of
Coordinate set up of reception
Cue ushers and wedding party for ceremony
Coordinate photographs following ceremony (if any)
Guide guests to cocktail hour and/or reception
Manage reception timeline
Gather wedding party's personal items for departure
Gather and secure gifts per Bride & Groom's instructions